SuperSearch Multidisciplinary University Research Initiative (MURI) supported by Air Force Office of Scientific Research (AFOSR) is a collaborative interdisciplinary research effort between University of California San Diego (groups of Schuller, Basov and Shpyrko), University o best gay chat rooms f California Irvine (Fisk group) and University of Wisconsin Milwaukee (Guptasarma group) aimed at materials discovery of new class of high temperature superconductors.
On the other hand, you may need to first qualify the test taker by reviewing particular experience or education requirements, process a formal application that includes collecting specific data, collect fees by credit card, and/or conduct additional steps before the you pay someone to take my online exam. This is a very powerful feature in the MMT platform because all of these scenarios are accommodated.
Mission Statement: The search for materials with novel properties, new superconductors in particular, is a difficult and sometimes tedious task. It is difficult because a deliberate search for new superconducting materials in a particular system is rarely successful. As a consequence, the discovery of these new materials has been mostly accidental since the discovery of the phenomenon. Moreover this is a tedious task because the systems under study are usually materials consisting of several elements with complex phase diagrams. The interesting novel superconducting properties generally occur in a very narrow phase diagram region where superconducting and non-superconducting phases are likely to coexist. In some ways, the search for new materials is akin to the search for a "needle in a haystack" in which most of the material is "irrelevant".
Based on the past history of discoveries in superconductivity clearly some novel unconventional ideas are needed. Our method consists of a fast process for discarding most of the ("uninteresting") non-superconducting part of a multinary phase diagram. This is done by combinadult chat rooms ing a parallel method for the preparation of highly inhomogeneous samples ("phase spread alloy") together with a fast, sensitive screening using Magnetic Field Modulated Microwave Spectroscopy (MFMMS). Once a sample containing a minority superconducting phase is identified, comprehensive and quantitative structural, transport and magnetic methods are applied to identify the phase responsible for the superconductivity.
Our Partners: Handmadewriting Essay Writers and Write My Essay Today US.

Experimental Techniques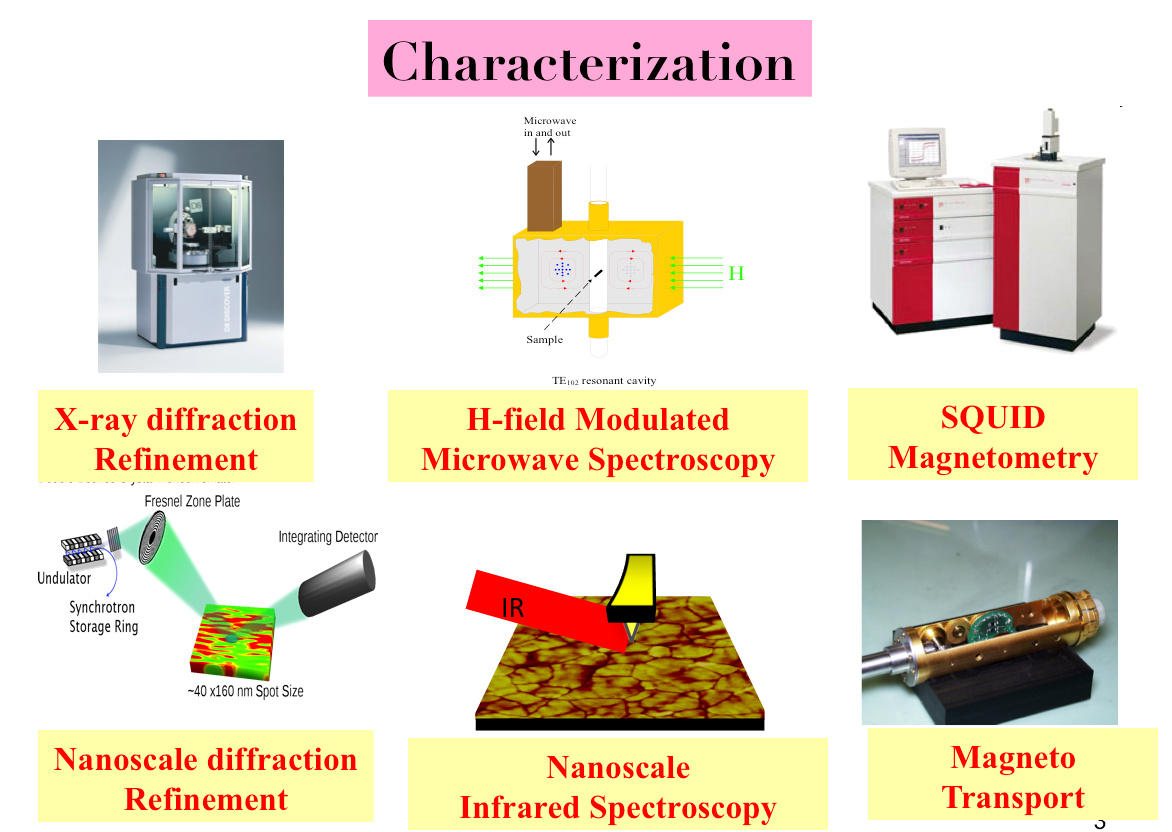 Schuller
SQUID
Magnetic Field Modulated Microwave Spectroscopy (MFMMS)
Magnetotransport
Phase Spread Alloys
X-ray refinement
Basov
Fourier Transform Spectroscopy
Magneto-optics
MIR-NIR-Vis-UV Ellipsometry
Scanning Near Field Nanoscopy
Broadband Near Field Spectroscopy
Shpyrko
X-ray scanning nanodiffraction (structural analysis)
X-ray scanning nanofluorescence (chemical analysis)
Synchrotron based scattering, spectroscopy and microscopy techniques
Atomic Force Microscopy (AFM)
Conductive AFM
Fisk
materials synthesis
flux growth of single crystals
specific heat
transport and magnetic characterization
Guptasarma
Floating Zone Single Crystal Growth of complex materials.
Growth of Nanocrystals of complex materials using sol gel, hydrothermal synthesis, and other wet techniques.
Cryogenic Properties (0.4-300K, 0-9 Tesla): specific heat, electrical resistivity, magnetic properties, dielectric properties (function of frequency), ultrasound propagation.
X-ray Diffraction: Crystal Structure Refinement.
Synchrotron-based X-ray absorption: XANES and EXAFS.
Synchrotron based X-ray Photoemission Spectroscopy (XPS) with variable temperature.
People
Schuller
A. Basaran
M. Erekhinsky
S. Guenon
C. M. Monton
G. Ramirez
Y. Rosen
T. Saerbeck
I. Valmianski
J. de la Venta
J. P. Viterbo
S. Wang
Shpyrko
Basov
S. J. Moon
A.Schafgans
O.Khatib
Fisk
T. Grant
D-J. Kim
P. Pagliuso
A. J. S. Machado (departed)
C. Capan (departed)
Guptasarma
N. Smith (PhD student)
D. Gelting (graduate intern)
S. Sen (postdoc)
J. A. Dudek (postdoc)
A. J. Fehl
N. Gryga
Y. Zou (past postdoc, now faculty at SIAP and SSRF synchrotron)
S. K. Ray (past graduate intern, graduated PhD, now at IBM-NY)
M.S. Williamsen (past graduate intern, graduated PhD, now at QD San Diego)
A. Mukarram (past graduate intern, moved)
M.A. Stevens (past graduate intern, graduated with MS)
Why leave your online experience to chance or fate? With so many websites out there and so many products available it's easy to become confused. That's where ukrainian brides website can help you.
It is a very interesting question and men think over it a lot. Are Ukrainian and Russian women date only American and European men to get married? Do hot mail order wives get married to men from India, or Africa, or Arab countries? Why not? Are they afraid of cultural differences?
If you were in a fight, you would want to strike your opponent when he was at his weakest, in order to make short work of him. The same is true with online dating best ukrainian brides. Single women have a habit that you need to be aware of. They go out on Friday and Saturday nights with their friends, only to meet the same old crowd of losers looking for an easy date. Frustrated by yet another unsuccessful night of man hunting, they check their email to see whether any online contacts are even remotely interested in them. Sure enough, if you send your email so it arrives on a Saturday or Sunday Morning, then you'll be in the right position to catch them while they're feeling needy and vulnerable.